This is a warning for Windows 8 users about the "refresh" option. If you are experiencing a problem with a Windows 8 PC, you might end up at a screen that looks like this: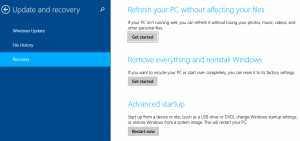 Although Microsoft only mentions that you won't lose your personal data when you choose to "Refresh Your PC", they do not give the proper warning, in my opinion. Don't be confused by the friendly sound of "refresh". This isn't like refreshing your browser so the page loads correctly. You will probably not feel refreshed by the time you get your PC back to normal. The warning should probably look like this:
WARNING! You are about to lose every program you have ever installed on your Windows 8 PC.
According to Microsoft logic Windows programs like MS Office, Photoshop, Classic Shell, StarCraft, your antivirus… ARE NOT Apps! Any mention of your apps still working after a refresh is just MS confusing you with their bullshit idea that a Windows App is not a Windows program or application and a Windows program is not a Windows App.
Prepare to spend hours, if not days, looking for discs, downloading installation files, and searching for product keys so you can re-install all of your programs. If you were using an email program (client) like Outlook, Thunderbird or <gasp> Windows Live Mail, you will need to reconfigure your accounts. If you had your account configured as a POP account rather than IMAP then you will need to import your old mail if you know how to find it.
If Microsoft needs help writing warnings they can contact me here.